Male Infertility Treatment in Ahmedabad
What is more beautiful than your child's first cry?
This is the moment for which you have waited for so long.
But it is not a straight forward option for everyone.
Up to 15 % of couples are infertile throughout the world. One of the main reasons for this infertility is low sperm count in the male counterpart.
We at Nisha IVF centre provide the best treatment for male infertility.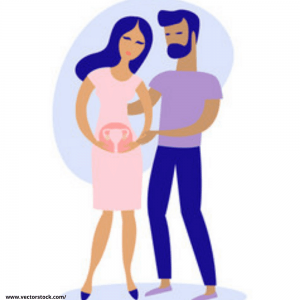 What is Male Infertility?
Male infertility is any health issue in men that lowers the chances of his female partner getting pregnant.
The main reason behind male infertility is low sperm count or the health of your sperm, which is not able to fertilize the ovum of your female partner.
What is the normal range of healthy sperms?
The amount of sperm produced in each ejaculation should be approximately 20 million per ml. About 75% of sperm should be alive in every ejaculation. Within that 75% of active sperm, 30% should be of standard shape and size. If your problem is due to poor sperm health, you must undergo a treatment of male infertility.
How will you know if you have male infertility?
Well, there are certain symptoms, those are-
Swelling and pain down there in your genital
Low sex desire
Trouble getting an erection
Low sperm count
Retrograde ejaculation
Causes of Male infertility
There are many causes of male infertility like:
Lifestyle habits like deficient nutrition
Drugs consumption
Smoking
Undescended testicles aging
Hormonal disorders
Vasectomy
Low sperm count
Poor sperm motility
Obesity
Diagnosis of Male infertility
The diagnosis includes
Semen analysis:  Semen analysis is a test which helps our doctor to understand the quality of semen. If the outcomes such as abnormal sperm count or motility or unhealthy sperms etc. are seen in semen analysis.
The analysis should be done after 3 to 5 days of abstinence. That means a woman and man should not have sex for a minimum of 3 days, and not more than 5 days.
Hormone analysis:  In hormone analysis, we usually check the testosterone levels in your body.  Hormonal test like Thyroid, Prolactin, Testosterone, FSH, and LH levels are also done.
Testis analysis- Here, we check whether there is any problem with testis or not. If the result shows that there is no sperm in the testis or any sign of damage, then it is a testicular failure. If the test report shows that there is no problem with a testis, then it may be an obstruction.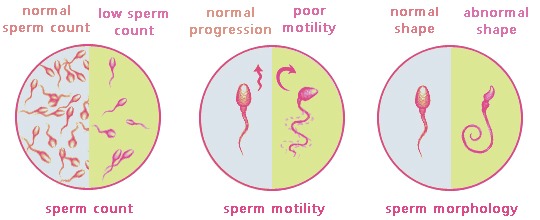 Treatment for Male Infertility
The treatment option varies depending on the fertility profile of the couple and degree of impact. There are various forms of treatment of male infertility-
ICSI (Intra Cytoplasmic Sperm Injection) treatment- It is a technique where our doctor injects the sperm cell into the cytoplasm of the egg. We perform this procedure in severe cases of male infertility.
IMSI (Intracytoplasmic morphologically selected sperm injection) treatment- It is a particular type of ICSI treatment where we use a higher-powered microscope to select sperm. It helps in more significant analysis of the sperm in detail. After examination, the best quality sperm cell is injected into the cytoplasm of the egg. This technique has a higher success rate.
Other than these the following treatments are also available:
Simple medication to correct the fertility problem.
Minor surgery to correct a defect in the passage.
Correcting an imbalance in the hormones.
Using the current sperm in the laboratory for fertility
Benefits of Male Infertility Treatment
The main advantages of male infertility treatment are-
Being able to give birth of his own child.
Identification of the infertility issues
Rectification of infertility issues
High success rate
No side effects
Why choose Nisha IVF Centre?
Nisha IVF Centre provides you with one of the best infertility treatments for men in Ahmedabad. Our founders, Dr. Nisarg Patel, Dr. H.B. Patel and Dr. Himali Maniar Patel, are highly qualified and experienced gynecologists and male infertility doctors in Ahmedabad.
We provide world-class IVF treatment at an affordable cost in Ahmedabad. We maintain the confidentiality of our clients very strictly. Our treatment has a very high success rate in treating infertility treatment for males which is why we are the best fertility hospital in Ahmedabad.
We examine each of our clients with due diligence and then come up with a suitable treatment for them.
Looking for an IVF Treatment?
Fill Out the Form Below for an instant Appointment with the Doctor
Frequently Asked Questions
Does smoking affect semen?
Yes, smoking decreases the quantity and quality of your semen.
What can I do to boost my fertility?
You need to follow the followings
Maintain a healthy lifestyle
Take proper nutrients.
Stop smoking and drinking alcohol
Exercise regularly
What is the cost of the male infertility treatment?
The cost of the treatment varies from patient to patient depending upon the situation. Book an appointment right now to know more about your treatment cost.
Is it a painful treatment?
In most of the treatment, procedures are painless.