Testicular Biopsy for Azoospermia in Ahmedabad
Azoospermia is a condition with no sperm in the ejaculate, resulting in infertility. Around 15% of male infertility cases have azoospermia.
It can be obstructive azoospermia, where a blockage prevents sperm from accessing the ejaculate, or it may be nonobstructive azoospermia meaning that the testis is producing less sperm.
Though this condition makes it difficult to conceive naturally, there are treatments that can help you overcome this issue and have your biological child.
One such treatment is a testicular biopsy for azoospermia. It is done to determine the root cause of infertility or collect sperm for IVF.
Nisha IVF Centre, one of the best IVF hospital in Ahmedabad, is at the forefront of providing advanced fertility treatments for both males and females.
We have some of the best IVF doctor in Ahmedabad, who are known to provide result-oriented, affordable fertility treatments and procedures such as IVF, ICSI, frozen embryo transfer, blastocyst culture and transfer, and many more.
Our team of fertility specialists is an expert in testicular biopsy for azoospermia in Ahmedabad. They have helped thousands of couples struggling with male-factor infertility realize their dream of parenthood.
Read on to learn about the procedure, cost, and advantages of testicular biopsy for azoospermia.
What is testicular biopsy for azoospermia?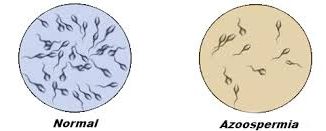 As mentioned above, azoospermia means the absence of sperm in the ejaculate. It is caused due to obstruction in the ejaculation tracts or sperm production issues in the testes.
A testicular biopsy includes taking a small tissue sample of the testis to examine it for sperm production. It is the most reliable diagnostic procedure for azoospermia.
Doctors perform this procedure in order to collect sperm from the testicles of men with azoospermia to use in ICSI or IVF.
As different areas of the testicle produce sperm, the fertility specialist takes multiple samples from various testicular regions with the hope of finding sperm in any one area.
What is the procedure for testicular biopsy for azoospermia?
Testicular biopsy for azoospermia in Ahmedabad at Nisha IVF Centre is done in different ways, which are mentioned below: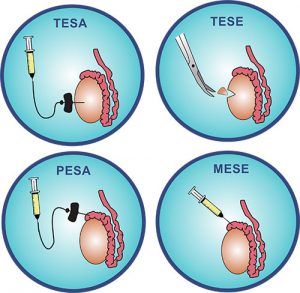 Percutaneous epididymal sperm aspiration (PESA)
PESA is a nonsurgical procedure done under local anesthesia. The fertility specialist will collect the sperm from the epididymis by inserting a tiny needle through the scrotal skin. The extracted sperm is then used for ICSI.
Dr. Nisarg Patel, one of the best IVF doctor in Ahmedabad, is an expert in this sperm retrieval technique.
Testicular sperm extraction (TESE)
TESE is a surgical sperm retrieval procedure wherein the doctor removes a small amount of testicular tissue from patients with azoospermia. The sperm extracted from the tissue is then used in the assisted reproductive technique.
We mainly perform this procedure in cases of nonobstructive azoospermia.
Micro TESE
Micro TESE or microdissection testicular sperm extraction is mainly recommended for men with nonobstructive azoospermia. It is a surgical procedure that uses a sophisticated surgical micro-dissecting microscope to find the tissue to be removed accurately.
This procedure for testicular biopsy for azoospermia in Ahmedabad offers better sperm retrieval rates and causes less harm to the testicle's internal structure.
Testicular sperm aspiration (TESA)
At Nisha IVF Centre, one of the best IVF hospital in Ahmedabad, we recommend TESA to men dealing with obstructive azoospermia. The doctor uses a needle to remove the fluid and tissue from the testicle of the patient under local anesthesia.
The sperm cells are retrieved from the tissue in the laboratory and then used for fertility treatment, namely ICSI.
Microsurgical epididymal sperm aspiration (MESA)
The MESA technique is employed when a patient has a vasectomy or absence of congenital bilateral vas deferens, which has blocked the epididymis.
This procedure involves the doctor extracting healthy, motile sperm for use in IVF or ICSI after thoroughly inspecting the epididymal tubes under a microscope. As the doctor can retrieve more mature sperm through MESA, the extra sperm are mostly cryopreserved for later use.
Cost of testicular biopsy for azoospermia
The cost of the treatment in India may vary in different cities. In the metro cities, the cost is relatively high compared to the other small cities & towns. Generally, the price range is between Rs. 40,000 to Rs. 60,000 for complete treatment.
Why is testicular biopsy needed?
A testicular biopsy is mainly done for the following reasons:
To determine the cause of male infertility
Before deciding on surgical correction to remove obstruction in the vas deferens, it is essential to confirm that normal spermatogenesis occurs in males with obstructive azoospermia.
To extract the sperm directly from the testes and use them for ICSI.
Looking for an IVF Treatment?
Fill Out the Form Below for an instant Appointment with the Doctor
What is the cost of a testicular biopsy?
The cost of testicular biopsy for azoospermia in Ahmedabad at Nisha IVF Centre will depend on the type of procedure you choose.
However, let us assure you that the pricing for all treatments and procedures is affordable at our IVF hospital in Ahmedabad. We believe that quality medical care must be accessible to everyone.
What are the advantages of doing a testicular biopsy for azoospermia?
With the help of this procedure, the fertility specialist can extract the sperm directly from the testicles and use it in the ICSI procedure. This allows men with azoospermia to have their biological child.
Can collect healthy, viable sperm to be used for fertility procedures or cryopreservation.
About Nisha IVF Centre
Nisha IVF Centre is one of the best IVF hospital in Ahmedabad for advanced and effective fertility treatments. We are recognized for our excellence and exceptional care and services in reproductive medicine.
Our hospital is committed to assisting and fulfilling each patient's desire to begin or expand their family.
At Nisha IVF, we provide customized fertility services with the help of cutting-edge technology and innovative techniques.
Our goal is to make your experience with us the most positive and rewarding part of your fertility journey.
Dr. Nisarg Patel
Dr. Nisarg Patel is a leading fertility specialist having more than a decade of experience. He is the co-founder of Nisha IVF Centre.
He is an expert in reproductive medicine and IVF, for which he has received several awards and recognition in Gujarat. He is known for his dedication to excellence and extensive experience that has helped him deliver outstanding results.
To date, he has performed over 8000 IVF cycles with a success rate of 60 percent, making him one of the best IVF doctor in Ahmedabad.
Frequently Asked Questions
What are the causes of azoospermia?
Some of the causes include:
Genetic factor
Hormonal disorder
Infection
Cyst
Injury to the testicular area
Inflammation
Vasectomy
Radiation
Varicocele
What are the side effects of testicular biopsy?
Side effects of testicular biopsy are:
Bleeding
Swelling
Severe pain
Chills and fever
Hematoma
Is it possible to conceive if the male partner has azoospermia?
Yes, you may be able to conceive with the help of assisted reproductive techniques, such as ICSI, IVF, etc.