Female Infertility Treatment in Ahmedabad
Do you know?
Infertility related to female factor is near about 1/3rd of all the cases.
Once you are at the age of 30 the fertility rate decreases rapidly.
We at Nisha IVF centre provide the best treatment for female infertility.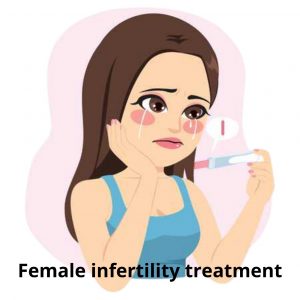 What is Female Infertility?
Female infertility is the inability of a woman to conceive or carry a pregnancy after 12 months of trying (frequent intercourse). The causes of female infertility can be challenging to diagnose. There are different treatments available, depending on the causes of infertility. The problem is more common among women who are over 30 years of age.
What are the causes of infertility in women?
The causes of infertility among women are as follows-
It includes less or no egg production for fertility. Specific symptoms which state the issue related to ovulation disorder is irregular or no menstrual periods.
It includes specific abnormalities in your Uterus that may lead you to miscarriage.
Damage to the fallopian tubes
Your fallopian tubes can get damaged/blocked by various diseases and infections.
It includes painful disorder in your tissues of reproductive organs.
Polycystic ovarian syndrome
It is a hormonal disorder that affects the normal development of eggs, which causes menstrual abnormalities and infertility.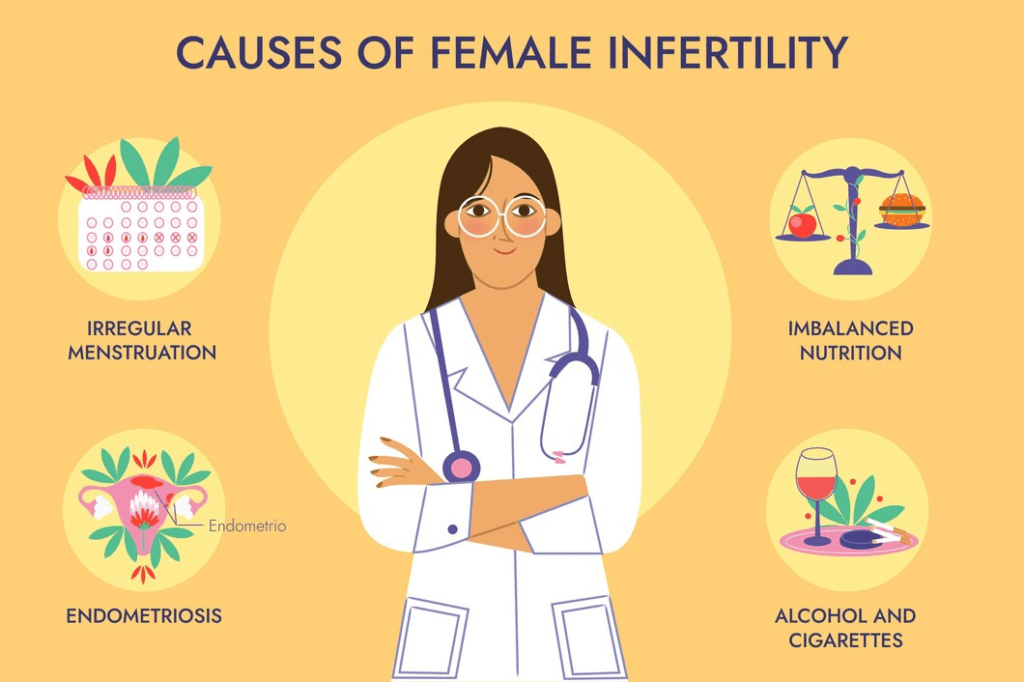 Book an Appointment
How is infertility diagnosed in women?
To diagnose female infertility, we follow the underlying steps –
A medical and sexual history of partners
Physical examination
Ovulation and ovarian reserve testing
Hysterosalpingogram (HSG)
Transvaginal ultrasound
Hormone testing, genetic testing
Hysteroscopy, laparoscopy
Treatment of Female Infertility
Followings are the various treatment options available for female infertility –
Medications to boost fertility
Ovulation induction to induce ovulation in females
Surgical procedures
Surgical options for women to restore fertility:
The restorative procedure uses laparoscopic or hysteroscopic or open surgery. Like,
Unlock your fertility potential – Begin your treatment
What are the types of ART?
Assisted Reproductive Techniques (ART) is an egg retrieving treatment procedure. It includes,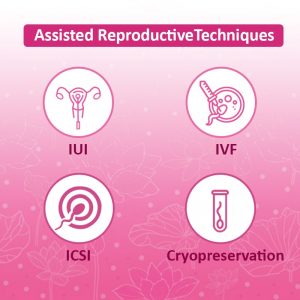 ART (Assisted Reproductive Techniques) success rates
The success rate of ART mainly depends on the woman's age.
The average success rate of ART in women is:
40-50% in women below 35 years
35% in women between 35-37 years
25% in women between 38-40 years
15% in women between 41-42 years
7% in women greater than 43 years
Benefits of Female Infertility Treatment
The essential advantages of male infertility treatments are –
You will be able to conceive.
All your issues related to infertility will be identified.
You will get proper rectification of your infertility treatment.
The treatment is minimally invasive with the least pain.
The high success rate after the treatment.
There are no side effects.
Why choose Nisha IVF centre?
Nisha IVF Centre offers you one of the best infertility treatments for women in Ahmedabad. Dr. Nisarg Patel, our founder, is working with the best team of doctors who have profound knowledge and experience in treating female infertility. Dr. H.B. Patel and Dr. Himali Maniar Patel, are exceptionally qualified and experienced gynaecologists and IVF doctors in Ahmedabad at our centre.
We perform a-list IVF treatment at an affordable expense as per the international standards. IVF cost in Ahmedabad varies according to the medical condition of the particular individual.  Maintaining the confidentiality of our patients is the first duty of us. Our treatment is highly appreciated due to the high success rate.
We look at every one of our patients with due care and tell them an appropriate treatment for them.
Looking for an IVF Treatment?
Embrace the miracle of life – Start your fertility treatment journey
Frequently Asked Questions
Is there any difference between an egg and an embryo?
Well, yes, there is a difference between egg and embryo. An egg is a female reproductive cell only which contains genetic materials of ancestors. In comparison, a source is a fertilized egg that contains genetic materials from both the parents' side.
What are the diseases and treatments liable for infertility?
There are many diseases and treatments available, which can lead you to infertility.
Can I become infertile during the second pregnancy?
Yes, you can become infertile after having a baby. It depends on various factors like health condition, lifestyle, ageing and many more. After a proper infertility treatment, you can conceive again.
How long does it take to complete the treatment?
There is no standardized period for female infertility. Your treatment will complete after a few days depending upon your needs and situation.